Howdy-doody!
Time flies like an arrow! Can you hear them buzzing? Only ten days to go until the conference. Our days right now start with discord pings, are full of zoom meetings and google hangouts and end with "Crap! we forgot to send that email". Then, repeat it all over again. We're nervously sprinting towards a cross-timezone, multi-cultural culmination of time, effort and experience at EuroPython.

This will be our last update ahead of the conference. We'll be back in July with a conference recap and our vision for the newsletter ahead (if you have any suggestions, send us those at news@europython.eu).
Alright, enough said! We hope you enjoy this newsletter as much as we enjoyed penning it down.
📝 EuroPython Society Update

🧠 EuroPython Society discussion at EuroPython
We would like to use the conference days to talk to all of you and other members of the community to gather ideas about our conference series and other EPS initiatives.
In particular, How do you think EPS can serve the needs of our thriving community? How can we make EuroPython more inclusive and diverse? To do so, we'll organise an informal discussion session on Thursday 14th July in the Open Space at EuroPython. We'll announce the exact time soon.
Bring your thoughts, comments, questions and ideas!! Hope to see many of you!
🥗 Organisers' Lunch @ EuroPython
Are you coming to EuroPython and you are a community organiser of Python or Open Source events? Join us for an informal lunch at the conference! We will have food and discussions on 14 July at 13:00. You can let us know if you are interested in emailing board@europython.eu, or just showing up on the day!
📅 General Assembly postponed
The board has decided to postpone the General Assembly until after the conference to give us more time to prepare and plan. We'll keep you updated on the new date.
🍀 EuroPython 2022 Conference Update
🐍 EuroPython at a glance!
~115 sessions - Across the Python experience spectrum and through all tracks (featuring a dedicated CPython, PyData, Web, Testing, Community track and much more), we have put together an intriguing set of talks for you to enjoy. Check them all out at https://ep2022.europython.eu/sessions
12 tutorials - From looking at Python under the hood to building production-ready GraphQL API to Train your Graphics card & Build with Audio. No matter what you're interested in, we've got something for you. Piqued your interest? Head over to the full list here: https://ep2022.europython.eu/tutorials
8 Special events - EuroPython is much bigger than *just* talks and tutorials. We'll have multitudes of events running parallel to the event. Check them out here to get to know more about it and how you can participate:
Django Girls Workshop brought to you by Zalando - 11th July, https://djangogirls.org/en/dublin/ (Applications close this Saturday, 2nd)
Pew Pew Workshop - 11th July, first come first serve basis, all ticket holders are welcome to attend
Trans*Code - 12th July, https://ep2022.europython.eu/trans_code (Requires separate registration)
Beginners Day - Humble Data - 12th July, https://ep2022.europython.eu/humble-data (Applications close this Monday, 4th)
MakerFest - 13th-15th July, https://ep2022.europython.eu/makerfest (No registration needed)
Mentored Sprints - 14th July, https://ep2022.europython.eu/mentored-sprint (Requires separate registration)
Hugging Face Gradio Hackathon - 13th-17th July, https://ep2022.europython.eu/hf-gradio-hackathon (No registration required, but do join the Hugging Face organisation to participate)
PyLadies Lunch powered by oomnitza - 15th July, https://ep2022.europython.eu/pyladies-lunch (Registrations close this Monday, 4th)
4 Keynotes - EuroPython wouldn't be complete without showcasing some of the brightest voices leading our community talking about the current challenges we face and offering their take on them. Interested in knowing more about what they'll talk about? https://ep2022.europython.eu/keynoters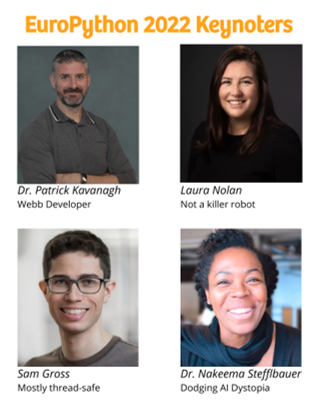 3 Panels - All three days of the conference will feature star-studded and thought-provoking panel discussions on the topics that matter most. We'll start with a CPython panel with some of our favourite core devs, followed by the Diversity and Inclusion panel on Thursday with our friends from The PSF and conclude with an Education panel with a Pythonic focus on Friday.
🌍 Join EuroPython from anywhere!
EuroPython is a conference for the community, by the community. In these ever-so-changing times, we know that it might not be feasible for everyone to make it to Dublin and attend the conference in person. That's why EuroPython is running hybrid this year. We'll have remote speakers as well as attendees.
P.S. We're offering financial aid for those who may benefit from them. Head over to https://ep2022.europython.eu/finaid to apply now! The deadline is 3rd July.
💝 Want to engage more deeply with EuroPython & our community?

🌌 Open Space
We believe that conversations flow better when provided with a dedicated space to present your ideas, and host discussions and prototype insights together.
The conference will feature an Open Space from 13th-15th July. Any ticket holder will be able to reserve a time block there and propose an activity for other attendees to participate in.

P.S. Be early, the space tends to get overbooked soon ;)
🖥 OSS Tables
Are you an Open Source library/ organisation and would like a dedicated table to showcase your work and engage with the attendees? Then say no more and send us an email at sponsoring@europython.eu (limited spots, first come first serve basis).
⚡ Lightning Talks
A EuroPython wouldn't be EuroPython without its goofy, byte-sized 5-minute entertaining Lightning talks. All the 3 conference days (13th-15th July) will feature Lightning Talks. Best part? Anyone can propose one! Get your groove on already and start putting ideas and stitching slides together.
No separate registration is needed, just submit a topic and put your name on the white scratchboard in the forum.
✨ Humans of EuroPython!
EuroPython won't be what it is without the brilliant people that put in their time and effort. Every little contribution matters, calling vendors during lunch breaks, taking a trip across Europe to inventory our storage, taking team calls from a bar ;) and much more. Being a volunteer is not easy and we want to showcase the people striving to put together a better and more inclusive environment for our thriving community.
Humans of EuroPython is an initiative to showcase such voices. It'll be a monthly issue (just like this newsletter) with an interview-style chat with our volunteers.
For our inaugural blog post, we spotlight Laís (@lais_bsc), where she tells us about her volunteering, Python Ireland and what she's up to right now.
https://blog.europython.eu/a-chat-with-lais-carve/

Our second edition contains words of wisdom by Naomi (@NaomiCeder), who needs no introduction. She reflects on the work of Trans*Code and thoughtfully reveals a trans perspective on what it's like to be in our community.
https://blog.europython.eu/pythonista-spotlight-naomi-ceder/
🤗 A big thanks to our Sponsors!

EuroPython won't be possible without the support of our fantastic sponsors. We're beyond psyched that we'll be able to hang by their booths at the conference. Grab some cool sponsor swag? Discuss some interesting job offers? And participate in some fun giveaways!
🎗️ Upcoming Events
🗓️
If you have a fantastic Python event and want to be featured, hit the
reply button
and write to us!
Farset Labs (Belfast): Maker Night in the Workshop 🛠 (Mon Jun 27, 19:00 - 21:00 BST)
Come down to Farset Labs Hackerspace this Monday for our Maker Night in the workshop. Bring your own ideas, or just come to see the pretty burning lights from the safety of our Glowforge Pro laser cutter.
RSVP: https://www.meetup.com/farsetlabs/events/glbgtsydcjbkc/
Tog Hackerspace (Dublin): Electronics Night (Mon Jun 27, 19:00 - 21:00 Irish Time)
This is our regular Monday evening electronics night. The space and our electronics room are still a work in progress.
These evenings are free to attend for members and visitors alike. No booking is necessary, just turn up. Everyone from absolute beginners to experienced is welcome. These evenings are not classes or tutorials but a very friendly informal evening.
RSVP: https://www.meetup.com/tog-dublin-hackerspace/events/mpvcvsydcjbkc/
Dublin Data Science: Shorter Talk Sessions (Wed Jun 29, 18:30 - 20:00 Irish Time)
This is an in-person event hosted by Dogpatch Labs, there will be two short talks: "Data science at a health hardware startup" and "How and Why to make Climate Graphs".
RSVP: https://www.meetup.com/dublin-data-science/events/286019460/
Dublin Linux Developers with Gravitee (Sat Jul 2, 18:00 - 19:00 Irish Time)
This is a remote event. Nico Balestra from Gravitee talks on "Getting Started with Gravitee"
RSVP: https://www.meetup.com/dublin-linux-developers/events/285252292/
Women in AI Ireland Meetup (Sat Jul 9, 13:00 - 16:00 Irish Time)
Celebrating our third year in Ireland, and following nearly two years of online presence, Women in AI are re-launching in-person events in Ireland! Secure your place today for our upcoming event on the 9th of July at Platform X, Harbourmaster Place, KPMG, Dublin proudly sponsored by our long-time supporters KPMG Ireland and Insight SFI Centre for Data Analytics!
RSVP: https://www.eventbrite.ca/e/wai-meet-up-tickets-354820506687

Dublin Linux Community (Sat Jul 9, 15:00 - 17:00 Irish Time)
This is a remote event. will be having an in-person event later in the month.
RSVP: https://www.meetup.com/dublin-linux-community/events/286540864/

Python Ireland July Meetup (Wed Jul 13, 18:30 - 21:00 Irish Time)
In EuroPython, the folks at Python Ireland will have a social meetup with finger food at the pub Against the Grain. Registration required.
More details at: https://www.meetup.com/pythonireland/events/280640457/
PyLadies Dublin July Meetup (Tue Jul 19, 18:30 - 19:30 Irish Time)
We are excited to have 3 excellent speakers from "How to encourage a teenage girl to programming" to "How to start a career in python" and "Supply Chain Security in OSS". This is a virtual event and will be live-streamed to our Youtube channel.
RSVP: https://www.meetup.com/pyladiesdublin/events/286594152/
Dublin Linux Community (Sat Jul 23, 15:00 - 17:00 Irish Time)
We are trialling coming back to meeting in person. The venue may be subject to change as things settle down. We also have an online event at the start of every month.
RSVP: https://www.meetup.com/dublin-linux-community/events/dbgcssydckbfc/
Women Who Code Belfast: Bytes n' Brew Online ☕️💻 - Breakfast (Thu Jul 28, 08:00-09:00 BST)
Bytes n' Brew is a fortnightly social event, a relaxed space designed to give our community an opportunity for conversations and connections around busy/work-life schedules. Join online to make new friends in the community, and ask others for career advice, coding help or mentoring.
RSVP: https://www.meetup.com/Women-Who-Code-Belfast/events/jzzgssydckblc/
🤙 Editor's note
Hey hey! If you made it this far, then first of all thanks. I am Vaibhav/ VB (@reach_vb), a volunteer with the EuroPython 2022 team. Throughout this year I've had a small role in putting these Newsletters together. Personally, for me, these newsletters are much more than just a conference update, they provide an insight into the structured chaos that EuroPython is.
This is the 6th and the final edition before the conference. From January to today we've gone through quite a transformation. Ahead of the conference, I'd like to highlight and thank everyone who helped put this series together (in alphabetical order):

Artur Czepiel (@artcz)
Diego Russo (@diegor)
Laís Carvalho (@lais_bsc)
Raquel Dou (raquel@europython.eu)
Sebastiaan Zeeff (@SebastiaanZeeff)
Vicky Twomey-Lee (@whykay)
Yasmin Morshed (@yasmin_codes)

They are all a fantastic bunch of people and it was/ is an honour to have the privilege of working with them. Find these people during the conference (or online)  and give them a hug, a cookie and thank them for their hard work!

Alright, enough sentimental stuff! The Newsletter is here to stay, but we're keen to hear your suggestions and feedback on how we can make it more useful for you. Send us your ideas at news@europython.eu or find us at the conference.
See you at the conference, on social or in your inbox soon,
VB on behalf of the EuroPython Organisers