Hey, there! Welcome to the post-conference EuroPython newsletter! We hope you enjoyed the conference and had a great time, whether you joined us in person or remote.

As you probably noticed, we skipped July. We are very sorry about the absence (not really), but we were all very busy enjoying summertime. You see, the problem is - and I know this will sound crazy but - we actually miss you.

Not that long ago we were all together, drinking pints and running around at Dublin's Convention Centre. The event was so good that it left a dent in our hearts. Yes, we are quite emotional! 🤖

To minimise the pain in our aching blood-pumping machines ❤️, we decided to take a break from our summer cocktails and boat trips to come and say hello. We plan to be back again in September, tanned and full of energy.
So, with no further ado, let's get to the fun stuff! As always, if you have any suggestions or have a cool Python event you want us to feature, please send us at news@europython.eu.
📝 EuroPython Society Update
🏛️ EuroPython 2023 - Community Call for Venue
The EPS team have been discussing how to make the conference more accessible for the community and affordable to a wider audience. We know that the community is our best source to find such places. So for EuroPython 2023, we'd like to experiment with running a Community Call for Venue!
We will publish the formal call on our blog/newsletter in mid-September. Stay tuned!
In the meantime, talk to the local community you are part of. If you already have ideas, questions or suggestions, reach out to us at board@europython.eu.
🎗️ General Assembly Update
In preparation for the Annual General Assembly (GA), the EPS board are working with our accountant and auditor to get our financial reports in order in the next couple of weeks. As soon as that is finalised, we will be excited to call for the next General Assembly; the actual GA will be held at least 14 days after our formal notice.
The GA will be run online this year. It is a good opportunity to hear about Society's developments and updates in the last year. A new board will also be elected at the end of the GA.
All EPS members are invited to attend the GA and have voting rights. Find out how to sign up to become an EPS member for free here: https://www.europython-society.org/application/
🏂 What does an EPS board member do?
The EPS board is made up of up to 9 directors (including 1 chair and 1 vice chair); the board runs the day-to-day business of the EuroPython Society, including running the EuroPython conference series, and supports the community through various initiatives such as our grants programme. The board collectively takes up the fiscal and legal responsibility of the Society.
At the moment, running the annual EuroPython conference is a major task for the EPS. As such, the board members are expected to invest significant time and effort towards overseeing the smooth execution of the conference, ranging from venue selection, contract negotiations, and budgeting, to volunteer management. Every board member has the duty to support one or more EuroPython teams to facilitate decision-making and knowledge transfer.
In addition, the Society prioritises building a close relationship with local communities. Board members should not only be passionate about the Python community but have a high-level vision and plan for how the EPS could best serve the community.
💡
How can you become an EPS 2023 board member
?
Any EPS member can nominate themselves for the EPS 2023 board. Nominations will be published prior to the GA (
see 2022's candidates
).
Though the formal deadline for self-nomination is at the GA, it is recommended that you send in yours
as early as possible
(yes, now is a good time!) to
board@europython.eu
.
We look forward to your emails❗
🍀 EuroPython 2022 Conference Update
We made it together! EuroPython was a hoot and a half ❤️
115 sessions, 12 tutorials, 8 special events, 4 Keynotes, and 3 Panel discussions spread across a bright and sunny week in July. We're still in awe of the discussions that inspired us, the laughs we shared and the Guinness (& energy drinks? 😝) we gulped throughout. EuroPython is much more than just a conference, it is an amalgamation of differences, experiences, careers, demographics, cultures and much more.
For the stats lovers. here's a nerdy snippet of EuroPython in numbers:
❤️‍🔥 EuroPython 2022 Volunteers
Given the scale of EuroPython, it is often difficult to imagine it being run without the support of full-time support. The truth is, EuroPython emphasises and embraces the polar opposites of organisation & chaos, fun & anxiety. It is a place where the teams bond and connect, pick up new skills, discover new interests, and grow out of our silly mistakes. But it is also a massive endeavour that comes at a significant cost of volunteer burnout, personal sacrifices and an unnerving commitment to work that often isn't highlighted.
EuroPython will forever be in debt to the yellow shirt crew! Through thick and thin, the volunteers made sure that all the attendees, speakers, sponsors and support crew were taken care of.
To list all our volunteers, past and present would take forever. But here's a small acknowledgement for all the brilliant effort our volunteers put in.
🌞 Miss the EuroPythonic extravaganza already?
We've been working hard with our AV team (Gonzo <3) in the past months to go through all the videos and package them for your viewing pleasure.
We hope to have them ready and tidied up by mid-September! 🥳
In the meantime if you want to revisit a talk you missed or just want to check out a talk again, all the live streams from across the conference days are put up as a playlist on our YouTube channel.
You can also find mini snippets of humans of EuroPython throughout the conference in our highlight videos: 🤗
📸 EuroPython 2022 Photos
The official photos for this year's conference are out! Check out the album at https://ep2022.europython.eu/photos.
And if you want to share highlights of YOUR EuroPython 2022, you can add them on Flickr, make a PR on our website or send us an email. More information here: https://ep2022.europython.eu/photos#how-to-add-your-photos
✍️ Community write-ups
Check out the nice write-ups put together by our thriving community about this year's conference: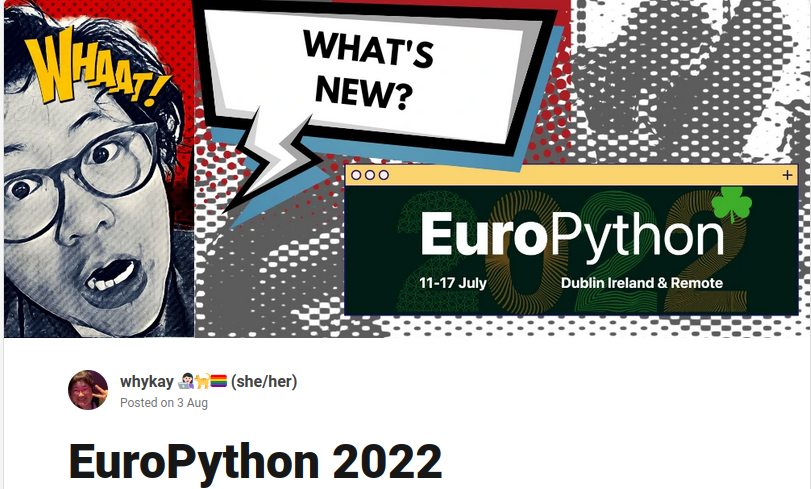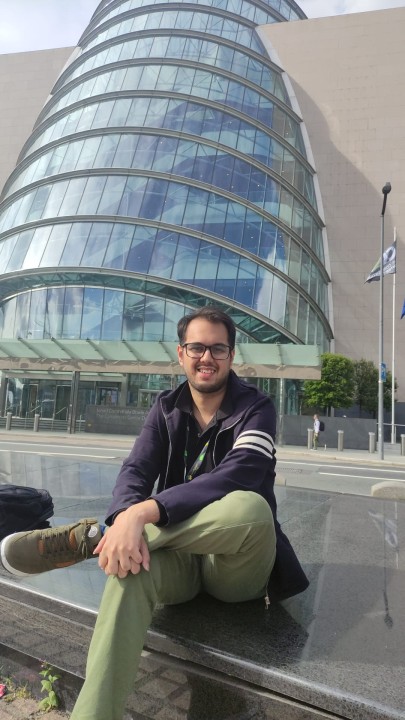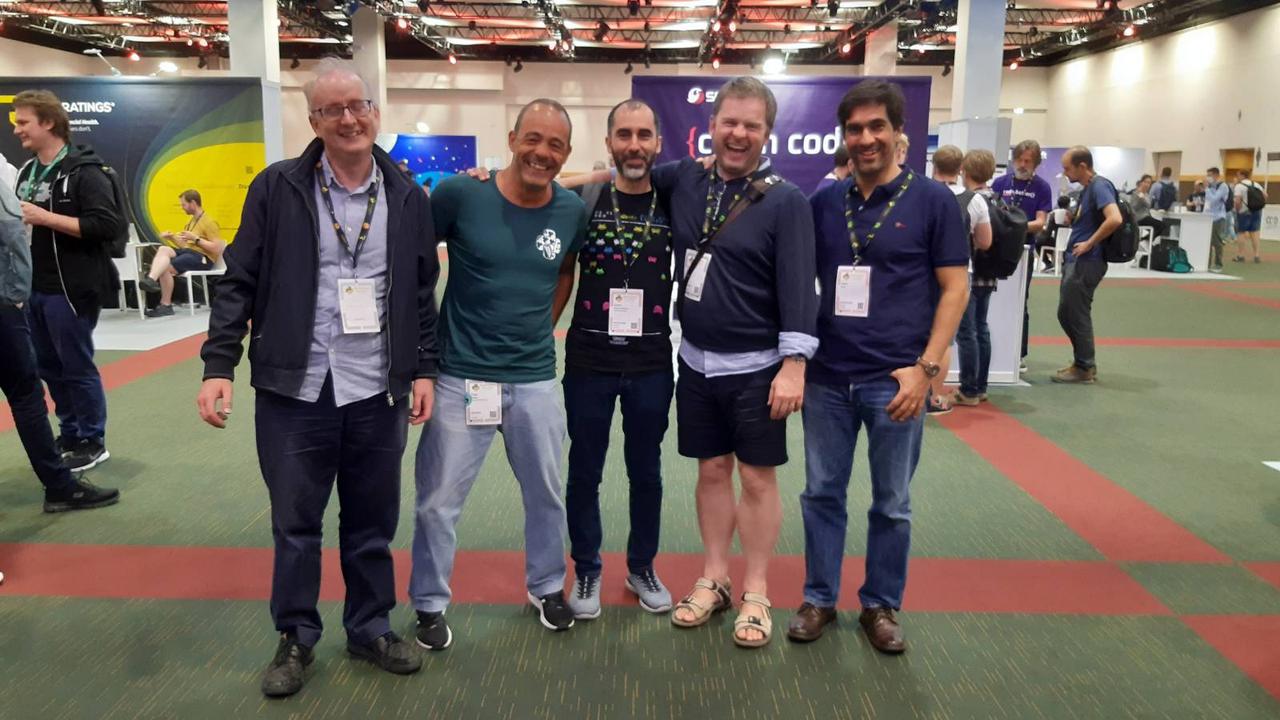 And on Twitter's Memory lane, the highlights are to:
🗓️ Upcoming Events
PyCon APAC 2022 (Sat Sep 3 - Sun Sep 4)
PyCon APAC 2022 will be held online on 3-4 September via YouTube Streaming. In the past years, PyCon Taiwan retrospected our role as a Python community platform in Taiwan. We have continued improving our agenda and events by introducing wonderful thoughts and experiences from the other Python Conferences in the world to Taiwan. We also enhanced the exchange of experience between local-to-local and local-to-international Python communities and kept adopting innovative plans.
More details and tickets: https://tw.pycon.org/2022/en-us
PyCon SK (Fri Sep 9 - Sun Sep 11)
The PyCon SK 2022 conference, which will be held in Bratislava, is an annual gathering of the community using and developing the open-source Python programming language.
More details and tickets: https://2022.pycon.sk/en/index.html
PyBelfast (Tue Sep 13)
PyBelfast has joined forces with the Northern Ireland Dev Conference to take part in the MeetUp Fest to bring an extra special meetup to the community in September.
We will be holding a family friend STEM-inspired python meetup to welcome everyone into the Python and meetup community.
More details: https://www.meetup.com/pybelfast/events/287739426/
PyCon UK (Fri Sep 16 - Sun Sep 18)
PyCon UK will be returning to Cardiff City Hall.
More details and tickets: https://2022.pyconuk.org
14th DjangoCon Europe & 1st PyCon Portugal (Wed Sep 21 - Sun Sep 25)
This is the 14th edition of DjangoCon Europe and it is organised by a team made up of Django practitioners from all levels. We welcome people from all over the world.
Our conference seeks to educate and develop new skills, best practices and ideas for the benefit of attendees, developers, speakers and everyone in our global Django Community, not least those watching the talks online.
In addition to DjangoCon Europe, we'll be hosting the first PyCon Portugal in the beautiful city of Porto on 24th September. Get your tickets now, and help us make history!
More details and tickets: https://2022.djangocon.eu & https://2022.pycon.pt/
PyLadies Dublin (Monday, Sep 26)
🙌 We are excited to announce our second in-person event this year! And we are partnering with Microsoft Ireland who will also be hosting us at their HQ in Sandyford.
💻 Do bring along your laptops if you want to code in between or after the talks, it can be with others attending, or trying out code with speakers, it's up to you! 🥰
More details: https://www.meetup.com/pyladiesdublin/events/287637521
PyCon ES (Fri Sep 30 - Sun Oct 2)
This year's most important Python event in Spain will happen in Granada. An event that will bring together hundreds of Python enthusiasts, an incredible agenda and wonderful job opportunities.
More details: https://2022.es.pycon.org
PyCon Ireland (Sat Nov 12 - Sun Nov 13)
Two years after our 10th-anniversary celebration, we are delighted to be back with an exciting new program for Ireland's premier technical conference in Dublin.
The pandemic has been a difficult time for everyone. We would like to thank all health care workers for their care. To honour their work, this year's conference will have a health care theme.
More details and tickets: https://python.ie/pycon-2022
Pyjamas Conf (Sat Nov 26 - Sun Nov 27)
I know we live by being the laziest Python conference but it's time to get up and get moving as the CfP will be closing on 19th September. Want to speak at a Python event for the 1st time? Have a new talk idea that you wanna try out? Please submit a proposal!
Details about the CfP can be found here: https://pyjamas.live/cfp/
Like any community-run conference, we need a lot of support and there's something you can help us with! You can sign-up to be our volunteer here: https://forms.gle/aZaxsTKXZ2ntucaCA  Or you can show your employer our sponsorship package: https://pyjamas.live/assets/sponsorship_package_2022.pdf
💌
At EuroPython Society, we proudly support local conferences and communities through our grants programme. PyCon SK, PyCon ES, DjangoCon Europe & PyCon Portugal are a few of the upcoming conferences we are supporting.
If you run a local conference and can use a bit of financial help or even just a sounding board to bounce off ideas, we'd be delighted to hear from you:
grants@europython.eu
You can find out more about the EuroPython Society's grants programme here:
https://www.europython-society.org/grants/
💕 A note from our Chair: Raquel Dou
Whether you're a loyal reader or a new subscriber to our newsletter, thank you! I am Raquel Dou, who has had the privilege of serving as the chair of EuroPython Society in the last year. And what a blast this year has been! The EuroPython 2022 is the 21st EuroPython conference series. After two decades in, organising the conference still never feels formulaic. Instead, it is a place of trying out new things, being supportive, connecting with one another and evolving with Python and the community.
One of such new things I'm very proud of is this (s0rt-of) monthly newsletter you are reading, authored by our ever growing Communications team. Not only is this our effort of delivering conference/Society updates to you in a condensed format, but more importantly it is a showcase of the humans that make up our teams. Through their distinctive writing styles, events they participate in and projects they share, we celebrate them and the communities they are part of.
I want to specially thank our editor in chief Vaibhav Srivastav (more affectionately known as VB). Thank you for leading the Comms team this year with such warm energy, humour and great care. Every newsletter, email, tweet, LinkedIn post that was drafted, edited or reviewed by VB was like a love letter to the community and an ode to being kind.
EuroPython has always been a place of celebration of the geekdom of the humans who (want to / love to) use Python. Going forward, we hope to hear from many more of you how you are using Python to make art, educate kids, watch the stars, grow plants, and all the mundane and extraordinary things in your life!
If you want to discuss any quirky ideas, cool events or fanciful initiatives that are in any way relevant to the EPS, you are most welcome to reach out to me at raquel@europython.eu. Together, to another wonderful year of expanding our horizon and great Pythonic fun! ❤️🐍