Hey hey!
To say that March went by quickly would be an understatement. Our volunteers have been working round the clock to put together a fantastic conference. We've been busy launching the Call for Proposals, Ticket sales and the AMA session for first-time speakers. Read along to find out more about them.
📝EuroPython Society Update
Ukraine Donation
Last month we asked you about how EuroPython Society can help our community in these trying times. We are pleased to inform you that we made a total of 10,000 EUR donation split equally between UNICEF and UNHCR. These donations will be matched 100% by a local Swedish organisation, thus doubling the amount.

Over the last month, we are relieved to hear many of our friends are safe. We'll continue with our everyday activities in supporting Python communities across Europe. If you have any suggestions on specific ways to directly help our affected communities, drop us a line at board@europython.eu
Trans*Code @ EuroPython
EuroPython Society champions diversity & inclusion. In line with our mission of making EuroPython and Python more accessible to everyone, especially the underrepresented folks, we have decided to host a Trans*Code event at our 2022 conference - Trans*Code is an informal hackday & workshop event which aims to help draw attention to transgender issues and opportunities.
The event is open to trans and non-binary folk, allies, coders, designers and visionaries of all sorts. We are privileged to have Noami Ceder on board to help and advise us with the organisation. Although she is experienced and awesome, it takes more than one to sow the seeds of pluralism.  
We want to make EuroPython 2022 an exceptionally welcoming place for trans people and other marginalised ones. If you identify as trans or non-binary and would like to volunteer your experience and time to help us organise the event and achieve our goal, please write to volunteers@europython.eu; or to our EuroPython Society chair, raquel@europython.eu (if you need to discuss something more private). If you are an ally, help us spread the word and lend us your support.
🍀EuroPython 2022 Conference Update
🗣Call for Proposals (CFP) & Financial Aid
The EuroPython 2022 Call for Proposals (CFP) has been extended!!
As a community conference, we are eager to hear about how you use Python in your professional and personal activities. All accepted speakers are eligible for a free conference ticket.
Submit and share your proposals in any format of your choice, be it talks, tutorials, workshops, panels, posters, helpdesks or other interactive sessions: https://europython.eu/cfp
Got any questions? Hit us up at helpdesk@europython.eu
💶Call for Sponsors
EuroPython 2022 will be held in-person this year, allowing our community to safely reconnect,  network, learn, share ideas, and create new relationships and partnerships.
Sponsors are what make EuroPython possible. Without our sponsors, EuroPython would not be the success that it is. With EuroPython back in-person this year, we're excited to be able to provide our sponsors with opportunities to connect with and support the Python community, be face-to-face with talented developers and job recruits, access a large and diverse audience, and elevate their visibility and corporate identity within the Python community.

We're offering 7 main packages with an aim to keep EuroPython accessible to most organisations keen to help the community.
In case of any queries, write to us at sponsoring@europython.eu
🎟Tickets
Ticket sales are open now! After months of planning, here are the three types we have on offer for you:
Combined Tickets: access to everything during the whole seven-day conference.
Conference Tickets: access to Conference & Sprint Weekend (13-17 July)
Tutorial Tickets: access to Workshop/Tutorial days (11-12 July) and the Sprint Weekend (16-17 July)
You can learn all the other details here: https://europython.eu/tickets
Free childcare: we provide free childcare service at the venue. If you are attending with your children, please register a ticket for yourself and select how many children will require childcare at checkout.
🥙Python Organisers' Lunch @ Dublin
Organisers of other Python conferences around Europe, we invite you to attend lunch with us in Dublin! Let's get together, share our joys and pains of running Python events, and chat about how the EPS can better support the community.
We are offering one free conference ticket per conference team. If you are interested, please email board@europython.eu to introduce yourselves and your event.
The lunch is planned for 14 or 15 July. We will be in touch with more details.
⚡Community Discounts
In addition, we would also like to support conferences and smaller user groups around Europe by offering a 10% discount across Business and Personal tiers of all ticket prices (excluding Early Bird sales).
If you are a regular participant to Python events, ask your local organisers to submit a request for the community discount, so they can distribute the vouchers to you.
💖Community Partners
We're constantly looking for ways to strengthen our ties with the developers and communities on-ground. We're psyched to announce our Community partners programme for communities across the island of Ireland.
As part of the programme, we'd like to connect with you and help you connect with like-minded others around Europe. Our team are planning many exciting activities. Apart from featuring you in our newsletter, we also invite your group attending the conference to the Irish Tech Community Mixer event, and guest post on our dev.to. By sharing, let's amplify our knowledge and love for Python and Open Source in Ireland!
If you are interested, hit us at community@europython.eu
🌍New Website
EuroPython has a new face!! We've been collaborating with our friends at The Developer Society to put together a Dublin-esque theme for EuroPython.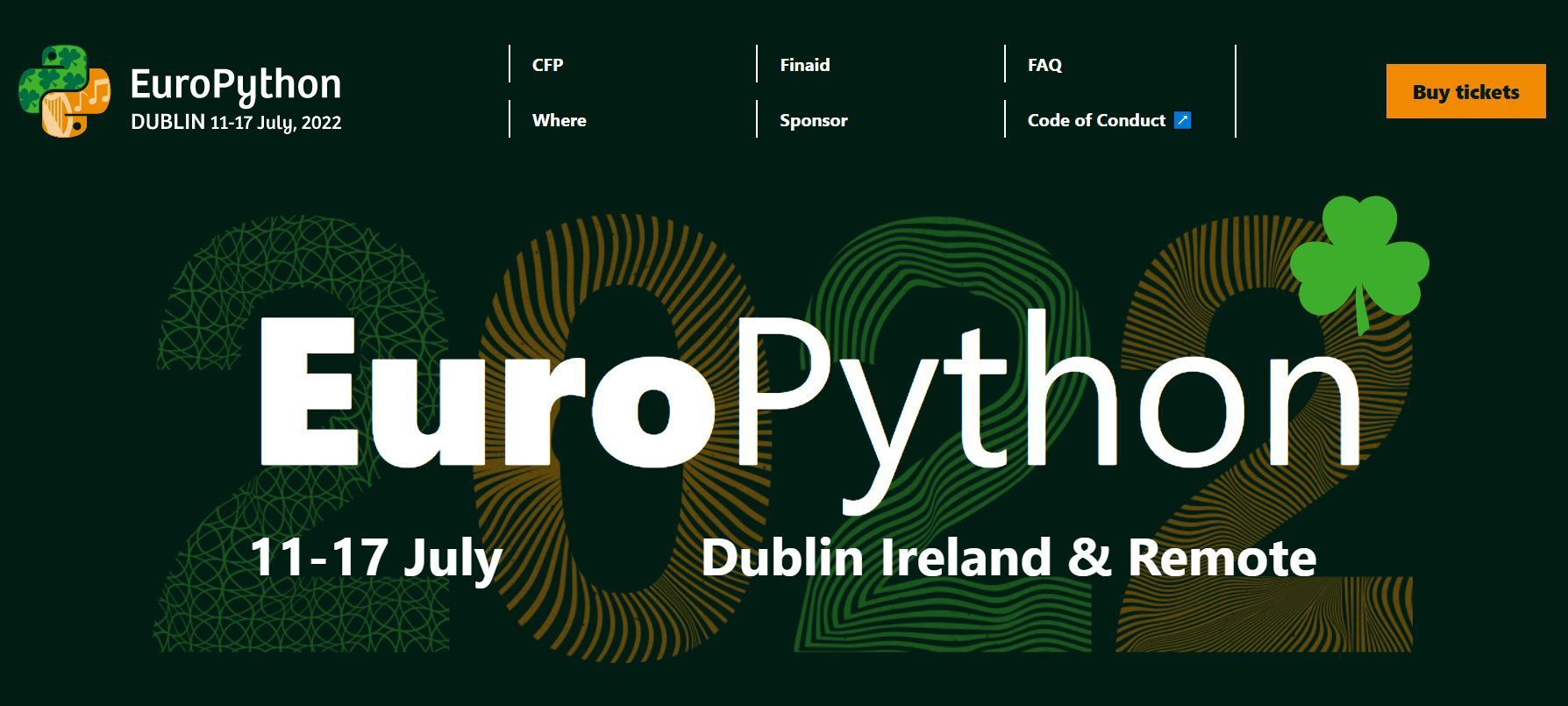 We'd love to know how you find the new design, hit us up at plaza@europython.eu
🎗️Upcoming Python Events
Python Conference 2022 (Tuesday, 5th April 2022)
Data Science and Engineering Club: Workshop - Graph analytics and graph databases in Python (Saturday, 9th April 2022)
Python Ireland Meetup (Wednesday, 13th April 2022)
PyLadies Dublin Meetup (Tuesday, 19th April 2022)
🐍Cool Python Projects
Mercury - Mercury is a tool to convert your Python notebook into a web app and share it with anyone.
Viztracer - VizTracer is a low-overhead logging/debugging/profiling tool that can trace and visualise your python code execution.
Fast F1 - FastF1 is a python package for accessing and analysing Formula 1 results, schedules, timing data and telemetry.
Pythoncapi_compat  - can be used to write a C extension supporting a wide range of Python versions with a single code base.
nbdev - nbdev is a library that allows you to develop a python library in Jupyter Notebooks, putting all your code, tests and documentation in one place.