Hey there 👋
We have a few updates to share! TL;DR version: Our programme has been finalised, remote tickets are up for sale and we have a whole bunch of fun events and workshops planned throughout the course of the conference.

📣 Programme
Our list of sessions with the selected talk, tutorials and posters are out now on https://ep2023.europython.eu/sessions.
Kudos to our programme team for curating the sessions and congratulations to all the speakers! We hope to see you soon in 🇨🇿 Prague.
Women In AI Workshop
We will have Women in AI run a half-day workshop for introducing the intuition behind machine learning along with a series of hands-on sessions to implement machine learning models using Pandas and Scikit-Learn Python libraries
They are looking for 2 extra mentors, Do help out if you can by filling this form: https://forms.gle/b2QysCaCsVW1j6fr5
More info on the event and registration is up on our website https://ep2023.europython.eu/wai
Humble Data Workshop
We are so happy to announce that Humble Data Workshop will be back on 17th July 2023 at EuroPython! We will teach beginners how to start with Python and Data Science by teaching them the basics of programming in Python, useful libraries and tools, such as Jupyter Notebook that help with data analysis.
Register now on https://ep2023.europython.eu/humble-data
Keynote
We have one more amazing keynoter to announce 🎉 !
Joanna Bryson
Joanna J. Bryson is a transdisciplinary researcher on the structure and dynamics of human- and animal-like intelligence. Her research ranges from systems engineering of Artificial Intelligence (AI), through autonomy, cognition, robot ethics, human cooperation on to technology policy and has appeared in venues ranging from a reddit to Science. She holds degrees in Psychology from Chicago and Edinburgh, and AI from Edinburgh and MIT. She has additional professional research experience from Princeton, Oxford, Harvard, and LEGO, and technical experience both in Chicago's financial industry and international management consultancy. Bryson is presently Professor of Ethics and Technology at Hertie School of Governance.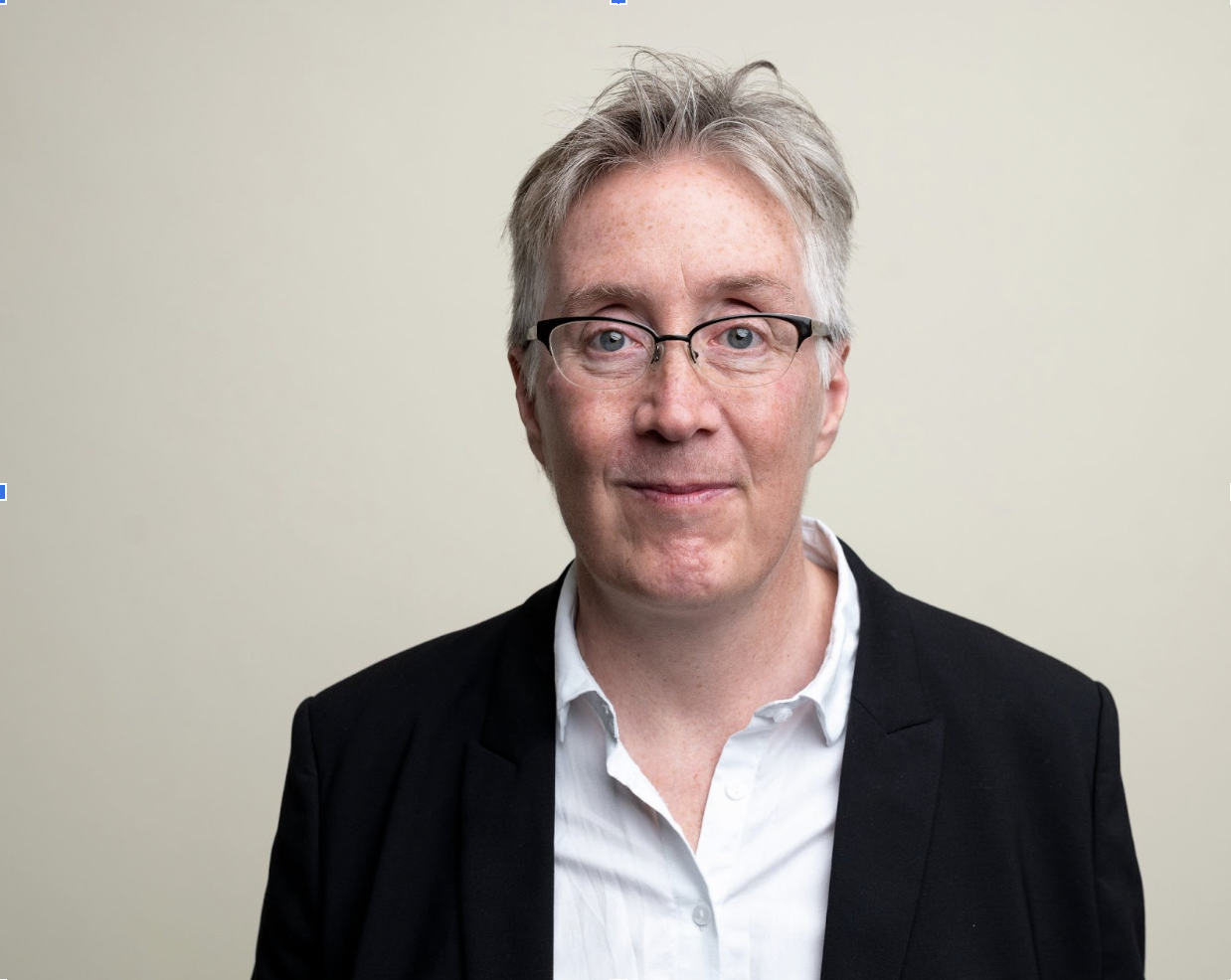 🎙 First-Time Speaker's Workshop
On 1st of June, our Mentorship Programme hosted its First-Time Speaker's Workshop and a total of 35 people participated.
We had a very interesting discussion with experienced speakers from our community. We discussed a variety of topics starting from how to handle stress during a talk, tips for better preparation and benefits from speaking at conferences/meetups.
The recording of the event is here

Speaker Placement Programme
Our Speaker Placement Programme continues to grow! The first matchings were made and the Mentorship Programme is now focusing on connecting more of our mentees to local meetups and python events in order to gain more speaking experience.
If you are an organiser looking for more speakers take a look here: https://ep2023.europython.eu/mentorship#3-speaker-placement-programme
ℹ️ Call for Volunteers
We are happy to announce the call for on-site volunteers at this year's EuroPython in Prague.
EuroPython is in large part, organised and run by volunteers from the Python community and volunteers are responsible for making sure everything runs smoothly! We have a lot of different roles each with their own set of responsibilities and commitment. For a more detailed overview, please check out our volunteers page: https://ep2023.europython.eu/volunteers
If you are interested in joining us please fill out the form here: https://forms.gle/tmNgWU3rgLbPAVLC9.
🎫 Remote Tickets
EuroPython has had a very successful Remote edition for the past three years! We wish to continue this tradition and have an option for remote participation this year for those in the community who cannot make it in person.
With remote tickets, you can watch the live talks, keynotes & panels in all 6 tracks, engage in live text-based Q&A, and interact with speakers and other in-person attendees in chat channels and as always we provide open and free access to the livestreams of our conference talks
Remote tickets are up for sale on https://tickets.europython.eu/
More information on remote participation can be found on our website https://ep2023.europython.eu/remote
💶 Financial Aid
Our Financial Aid Programme received record-high applications this year and we are very proud to be supporting so many Pythonistas to attend the conference.
Financial Aid for Remote Tickets is open now! If you need support to attend the conference remotely, make sure to apply by 9 July 2023 on our financial aid pagehttps://ep2023.europython.eu/finaid
💸 Sponsorship
Sponsoring a conference like EuroPython would mean supporting the broader European Python community as our grants team has been helping out quite a few local organisations run their own Python events 🐍
We thank all the sponsors that have signed up so far this year 🤗. We still have 2 Diamond slots available so if you think you or your organisation might be interested, reach out to us!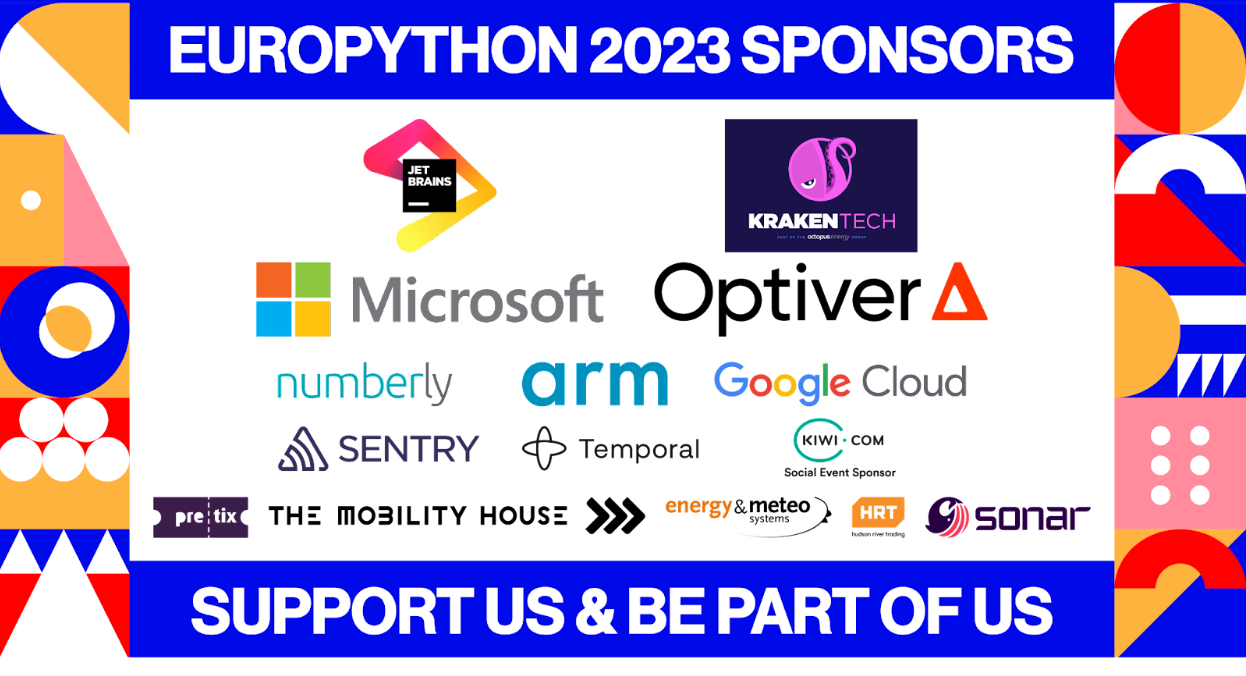 More information on the available packages can be found on our website: https://ep2023.europython.eu/sponsor
🐍 PyLadies Social Event
We will have a PyLadies social event at EuroPython 2023 on 21st July 2023. The event is a fantastic opportunity to engage with other women in tech, expand your network, and share your experiences.
More information about the venue and registration is on https://ep2023.europython.eu/pyladies-social-event
🇨🇿 Pycon CZ
We are thrilled to announce that PyCon CZ 23 is just around the corner! It will be held between 15th and 17th of September in Prague in the beautiful ex-monastery Gabriel Loci.
As we gear up for this incredible event, we're looking for interesting proposals to make it even more amazing. We invite you to submit your proposals for talks, workshops or sprints and other sessions. Whether you're a seasoned Pythonista or just getting started, we want to hear from you! Share your unique experiences, innovative ideas and insights into the world of Python. This is your chance to showcase your skills and inspire fellow Python enthusiasts.
Register now at: https://cz.pycon.org/2023/cfp/.
🌞 Community Highlight
This time in our community highlight, We just wanted to take a moment to mention DjangoCon Europe 2023 that happened in Edinburgh, they were a part of EuroPython Society's (EPS) Grants programme and had a very successful conference.
Also a shout out to Mia who is an active organiser of Pycon CZ for giving a wonderful lightning talk at DjangoCon:
She is also helping us in organising the conference, including the Pyladies Social event happening at EuroPython  2023.
Many thanks for all your help and efforts Mia 💖!
🐍 Upcoming Events
💥 Project Feature - Sympy
SymPy is a Python library for symbolic mathematics. It aims to become a full-featured computer algebra system (CAS) while keeping the code as simple as possible in order to be comprehensible and easily extensible.
Check it out: https://github.com/sympy/sympy
🥸 PyJok.es
$ pip install pyjokes
Collecting pyjokes
  Downloading pyjokes-0.6.0-py2.py3-none-any.whl (26 kB)
Installing collected packages: pyjokes
Successfully installed pyjokes-0.6.0
$ pyjoke
A good programmer is someone who always looks both ways before crossing a one-way street..
Add your own jokes to PyJokes (a project invented at a EuroPython sprint) via this issue: https://github.com/pyjokes/pyjokes/issues/10