After two weeks of hard work by our program workgroup, we are very excited to announce the EuroPython 2021 schedule: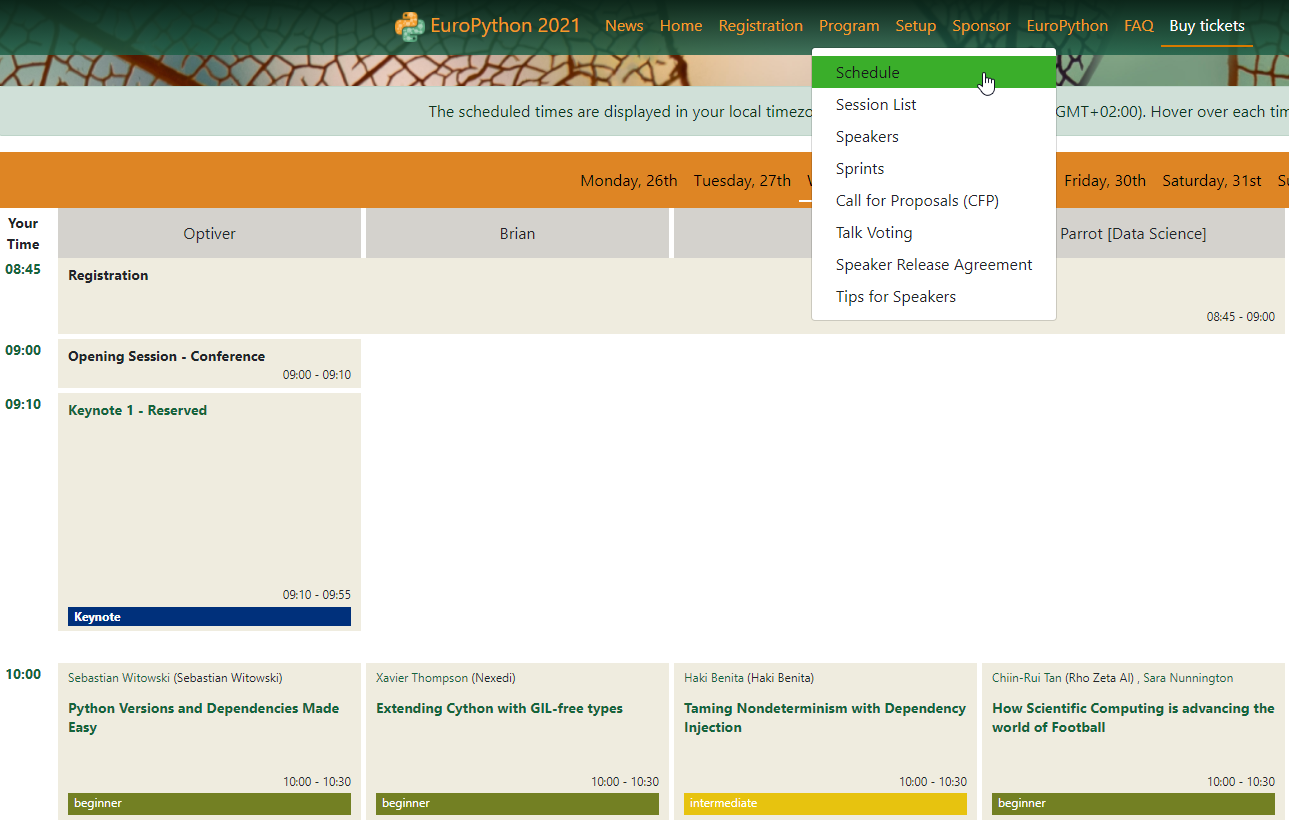 Seven full days of Python
EuroPython 2021 will be held online in the week of July 26:
Two workshop/training days (Monday, Tuesday):
training sessions and workshops
Three conference days (Wednesday, Thursday, Friday):
keynotes, talks, lightning talks, poster session
Two sprint days (Saturday, Sunday):
code sprints / hackathons
Lots of engaging content waiting for you
The conference will be packed with interesting Python content, provided in many different formats and presented by our fantastic team of volunteers, speakers and sponsors:
6 exciting keynotes,
97 talks,
18 training sessions,
3 fun lightning talk blocks,
overall, more than 130 sessions in total,
presented by more than 130 speakers from around the world,
4 all-day conference tracks,
with a whole track dedicated to data science topics,
a poster track,
interactive sessions,
a virtual social event,
an after party,
and lots of socializing on our conference platform.
We would like to thank all speakers and sponsors who submitted session proposals to the conference.
Never miss a talk
All talks will be made available to the attendees via streaming to our Matrix based conference platform, with easy switching between tracks and chat. We'll also make the streams available with rewind functionality and give you access to the streams after the conference.
Conference Tickets
Conference tickets are available on our registration page. We have several ticket types available to make the conference affordable for everyone and we're also offering financial aid to increase our reach even more.
EuroPython is your conference
EuroPython has always been a completely volunteer based effort. The organizers work hundreds of hours to make the event happen and will try very hard to create an inspiring and exciting event.
However, we can only provide the setting. You, as our attendees, are the ones who fill it with life and creativity.
We are very much looking forward to having you at the conference !
Enjoy,
EuroPython 2021 Team
EuroPython Society
EuroPython 2021 Website